21 September – 12 October 2019
panke.gallery, Berlin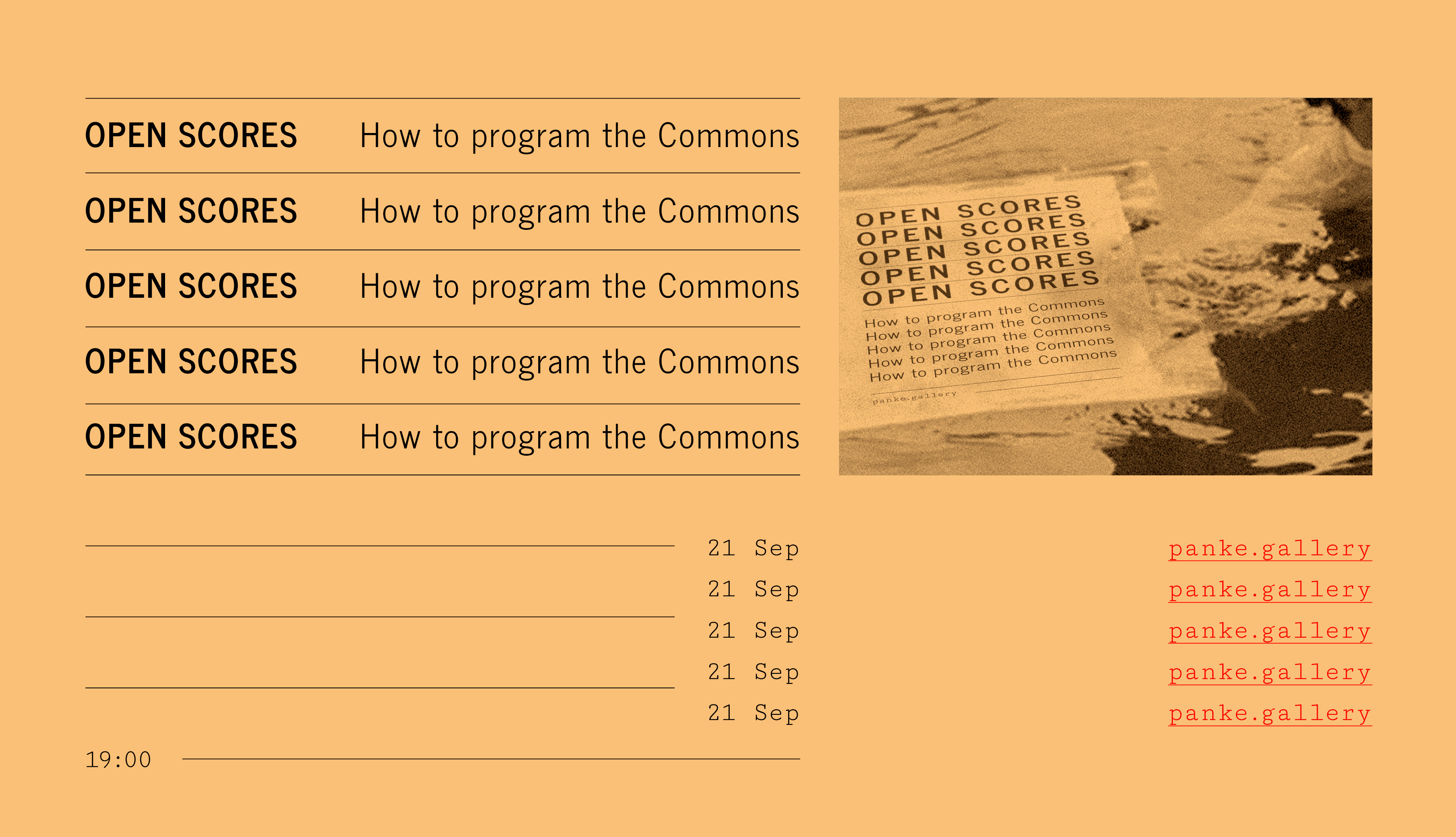 This exhibition brings together 16 practices through which artists articulate their own forms of (digital) commons. From online archives, to digital tools/infrastructure and educational formats, the projects envision a (post-)digital culture in which notions of collaboration, free access to knowledge, sustainable use of shared resources and data privacy are central.
For the exhibition, artists have developed a SCORE relating to their practice. A SCORE can have different meanings: It can be a general instruction, a working instruction, a performance instruction or an operating instruction. In any case, it is meant to lead to a realization of an intended action and as such is an interface between a human actor and an object/material/machine. And a SCORE can also be linked to a technical HOWTO document, in that it contains information on how to perform a specific task.
Within the exhibition, the newly developed SCORES add an aesthetic layer while pointing to the socio/political impact of the presented projects. The exhibition will also feature the interviews conducted as part of the research project as well as a temporary library on the subject of digital commons. Furthermore, there will be a program of talks, screenings, and workshops.
Participants:
Dušan Barok (monoskop.org), Marcell Mars & Tomislav Medak (memoryoftheworld.org), Sebastian Lütgert & Jan Gerber (0xdb.org), Kenneth Goldsmith (ubu.com), AAAAARG, Zeljko Blace (#QUEERingNETWORKing), Ruth Catlow & Marc Garrett (furtherfield.org), Laurence Rassel (erg.be), Marek Tuszynski (Tactical Tech), Constant (Michael Murtaugh, Femke Snelting & Peter Westenberg), Stefanie Wuschitz (Mz* Baltazar's Lab), Panayotis Antoniadis (nethood.org), Alessandro Ludovico (neural.it), Eva Weinmayr (andpublishing.org), Spideralex, Sakrowski (curatingyoutube.net), Creating Commons, Johannes Kreidler, Alison Knowles.
Curated by Creating Commons (Shusha Niederberger, Cornelia Sollfrank, Felix Stalder)
Sat. 21 September 2019, Opening, 19:00
20:00 TEMPLATES, Music Performance, Johannes Kreidler
21:00 Let's make a salad. Homage to Alison Knowles
22:00 DJ Gigsta
23:30 DJ ROLUX-FOX
Sun. 22 September 2019, Workshop, 11:00 – 17:00
Wiki What?
Workshop with Dušan Barok. Collaborative building and maintenance of knowledge resources using monoskop.org as an example.
Fri. 27 September 2019, Talk and Screening, 21:00
Film as Digital Object.
Sebastian Lütgert in conversation with Cornelia Lund, followed by Pirate Cinema screening.
Sat. 28 September 2019, Workshop, 11:00 – 17:00
Sebastian Lütgert on the 0xdb film database.
Fri. 11 October 2019, Talk, 19:00
Thick Webs & Continuous Relays: Feminist Epistemologies for the Digital Commons
Isabel de Sena
Sat. 12 October 2019, Workshop, 11:00 – 17:00
Moments of Autonomy. Feminist educational practices for the digital commons
with Andrea Hubin (Kunsthalle Wien), Shusha Niederberger (Haus für elektronische Künste, Basel), Peggy Pierrot (e.r.g., Brussels), Daphne Dragona (transmediale), Safa Ghnaim (tactical tech), Stefanie Wuschitz (Mz* Baltazar's Laboratory, Vienna) and others.
panke.gallery
Gerichtstr. 23 / Hof 5, 13347 Berlin (map)
Wed–Sat: 15:00 – 19:00

E: info@panke.gallery
W: panke.gallery
This exhibtion is part of the SNF-funded research project "Creating Commons" and supported by the Institute for Contemporary Art Research, (IFCAR), Zürcher Hochschule der Künste (ZHdK).